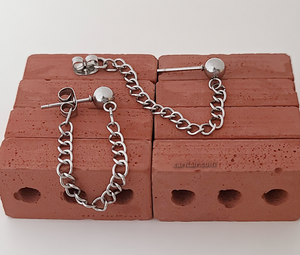 Stainless Steel Twist Chain Stud Dangle Earrings 
Lightweight, secure and just so stylish! These earrings will add a a lot of flair to any outfit with its' simple yet edgy style. The earrings are made with stainless steel twist chain that hangs from 5mm stainless steel ball posts. Wear these earrings all day long without worrying about them falling out. So lightweight you'll forget that you have them on.
- Stainless steel
- Tarnish resistant
- Shower proof / water friendly
NOTE: Stainless steel has a natural darker silver color and has a nice shine when it catches the light. Stainless steel has become a popular choice for jewelry and for good reason. For those who live an active lifestyle, stainless steel is great because it is very low maintenance. You don't have to worry about it tarnishing. Wear it while you shower, work out, etc. with no problem... the color remains the same. If it gets dirty, simply clean with a little mild soap and water. Great for everyday wear!